Top 5 Bold Web Series: In today's times, we all are preferred to watch movies and web series through digital streaming services like OTT platform. When discussing OTT platforms, Ullu emerges as one of the prominent companies at the forefront of producing and releasing web series, particularly known for its daring and unconventional content. However, it's essential to acknowledge that in the digital streaming, some content is meant for mature audiences and may not be suitable for watching with family. Engaging in such content with family could lead to uncomfortable situations and awkwardness. In this article, we have come up with Top 5 Bold Web Series and Ullu Web Series that are intended for private viewing, tailored for mature audiences, and  not suitable for watch with family.
Top 5 Bold Web Series
1. Mirzapur Web Series
Mirzapur, the web series that sent shockwaves through the industry, has become Amazon's most beloved show, widely known for its massive popularity. The series has gained immense popularity, and its appeal is evident to all. However, it is essential to note that the show contains explicit content unsuitable for family viewing. With two seasons already released and the eagerly anticipated third season on the horizon, viewers are eagerly awaiting its release. Rasika Duggal's portrayal in Mirzapur has been praised for her impactful and intense performances.
2. Charmsukh Web Series
"Charmsukh" is an Indian web series categorized as adult drama, celebrated for its audacious and fearless storytelling. The series adopts an anthology format, featuring standalone episodes that delve into diverse themes and captivating narratives. Emphasizing provocative and seductive storylines, "Charmsukh" intricately explores different facets of relationships and desires, presenting thrilling and engrossing tales with each episode. The show has garnered a dedicated fan base among Ullu enthusiasts, thanks to its outstanding performances and compelling plots.
Also Read : Ullu Hot Web Series 2023 Watch from Here 
3. Gandi Baat Web Series
Gandii Baat is an Indian adult comedy web series directed by Sachin Mohite for ALTBalaji. Recently, due to the Indian government's implementation of new OTT Platform Rules, the series has been taken down from ZEE5 and MX Player owing to its adult content. The show aspires to shed light on untold stories from rural India, addressing topics that are often considered taboo, including threesomes and BDSM. Currently, the web series consists of ten episodes, with four already released on the platform.
4. Charitraheen Web Series
Charitraheen stands out as a daring series available on MX Player, suitable for family viewing at any time. While it does contain a considerable number of bold scenes, some of which push the boundaries of explicitness, it is essential to note that this web series is not solely defined by its bold content. Caution should be exercised when watching it without earphones to avoid any discomfort.
5. Palang Tod Siskiyan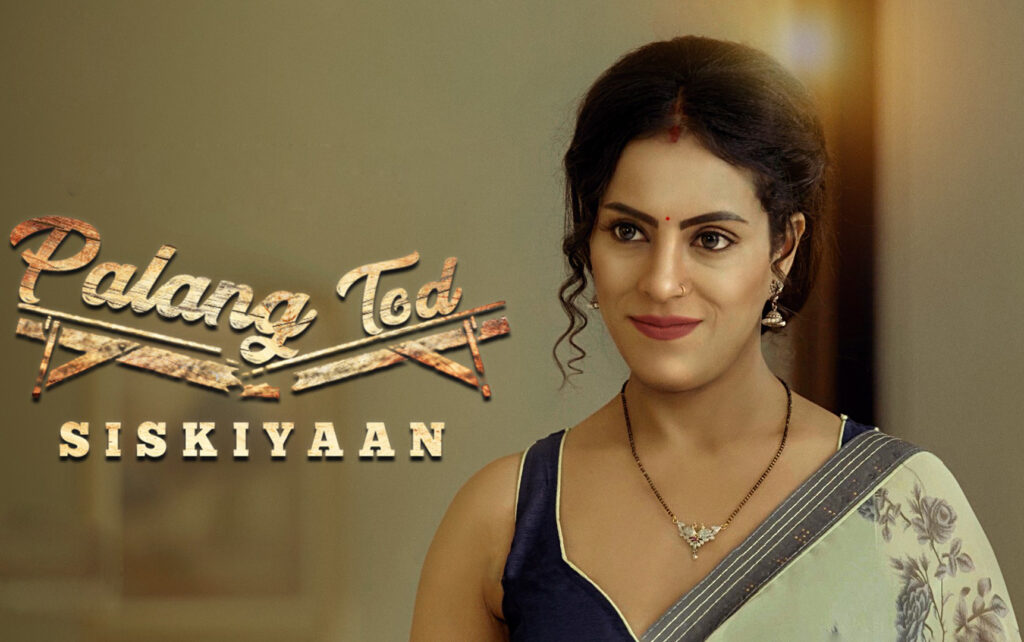 The web series "Palang Tod Siskiyan" revolves around a romantic relationship between a 'daughter-in-law and father-in-law.' Noor Malbika takes on the lead role of Renu, while actor Tarakesh Chauhan portrays the character of the 'father-in-law.' Renu, an unsatisfied wife, embarks on a journey of sexual liberation, not with her husband but with her semi-paralyzed father-in-law. As she explores this newfound aspect of herself, she must confront the upheaval that disrupts her life, driven by desires she cannot resist.
Also Watch : Top 6 Ullu Web Series : Watch this Web Series this Weekend
Popular download Links for Bold Web Series :
Bold web series to watch online
Bold web series video
Bold web series on Netflix
Bold web series on MX Player
Bold web series on hotstar
Bold web series download
Top bold web series on OTT
ullu movie download mp4moviez filmyzilla
ullu web series download 1filmy4wap 2023
ullu web series download mp4moviez 2022
ullu web series download 2023
Ullu Official website ullu.app
Conclusion
In the era of digital streaming and OTT platforms, web series have gained significant popularity, offering diverse content to viewers. Among them, bold web series have garnered attention for their daring themes and explicit content. However, it is crucial to recognize that such content is intended for mature audiences and may not be suitable for family viewing.
The Top 5 Bold Web Series highlighted in this article showcase the diversity and audacity of storytelling in this genre. Mirzapur has become a sensation for its gripping narrative and impactful performances, while Charmsukh stands out for its exploration of provocative relationships and desires through standalone episodes. Gandii Baat seeks to shed light on untold stories from rural India, incorporating themes that challenge societal norms. Charitraheen, though containing bold scenes, offers a nuanced portrayal of relationships, making it suitable for individual viewing.
Disclaimer
Please be aware that downloading movies from Piracy Websites is a clear infringement of copyright laws, as these websites unlawfully upload pirated content, including movies, web series, and TV serials. Engaging in this illegal activity can lead to severe penalties and fines in accordance with the law. At Tazahindi.com, we firmly condemn piracy and are staunchly against any form of online piracy.
FAQs
Which is the boldest Indian web series ?

There are a number of boldest web series are available in India. Out of which, some poplar are already listed above i.e.  1) Mirzapur, 2) Charmsukh, 3) Gandi Baat, 4) Charitraheen and 5) Palang Tod Siskiyan.

What is the bold web series of Alt Balaji?

In my point of view, Gandi Baat is the most popular bold web series on Alt balaji.

What is the name of Ullu Web show?

Most popular Ullu Web series are Charmsukh, Chawl House 2, Palang Tod, Jalebi Bai, Lovely Massage Parlour and Tandoor Web series.